Introduction to Asset Based Consulting
Historically, the consulting company model has seen teams of Subject Matter Experts (SMEs) going into a client organisation and solving complex challenges. Over time methodologies, roadmaps and processes were developed to improve scalability and repeatability, and commercial approaches such as fixed price and risk/reward entered the fray, but the consulting model remained fundamentally based on the concept of smart people using their experience to execute complex projects.
Asset Based Consulting is the name of the trend that has started to disrupt the traditional people-based consulting model. Consultancies are increasingly using reusable assets to enable them to deliver more rapidly, with greater scalability and at a higher quality to their clients. Essentially, tools are now being treated as primary assets, alongside traditional human talent.
The term 'Asset Based Consulting' in practice covers a wide range of approaches from augmenting manual effort with templates, best practices and software tools, through to creating fully packaged services that replace individuals with an automated solution. What all the approaches have in common is the concept of productising knowledge to reduce the dependency on individual talent. This involves taking activities that consultants have for decades done manually using their skills and expertise, and turning them into tools which can be used repeatedly and consistently for client engagements.
In this article, we present Mansion House Consulting's (MHC) take on Asset Based Consulting, what it means to our clients and how we use it to improve delivery outcomes.
The ABC of Asset Based Consulting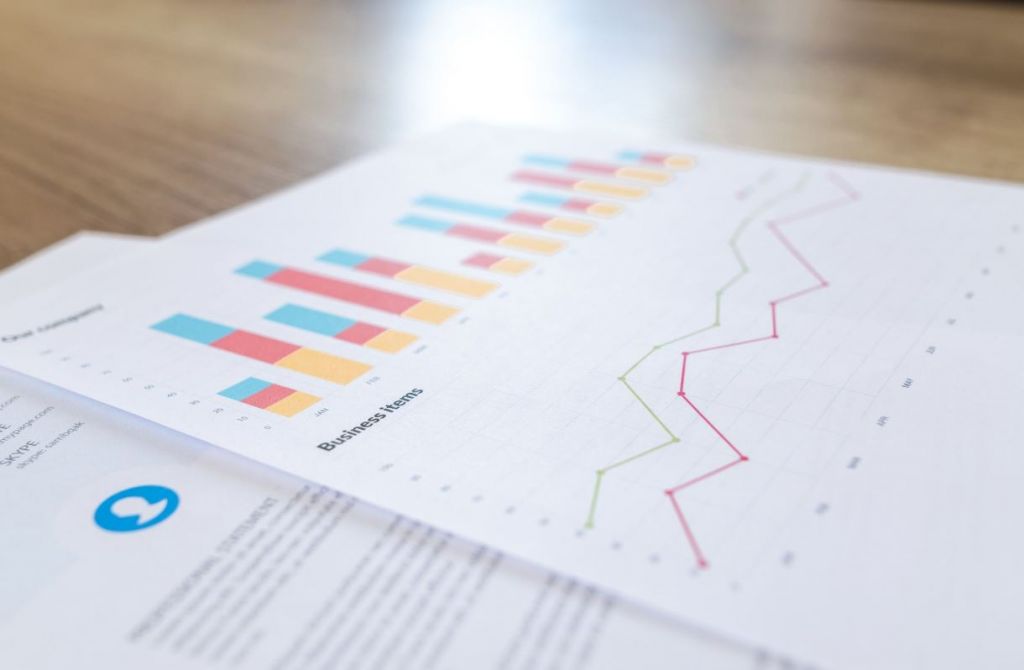 The market place for consulting has been evolving for some years, with clients well educated about their own business and industry, and increasingly sophisticated buyers, often being ex-consultants themselves. There is pressure to disaggregate consulting services, with clients more willing to house the work internally, source their own teams, and co-ordinate the funnelling of work packages to specialists for delivery. This results in less need for the traditional 'solution shop' consulting model.
Packaging Expertise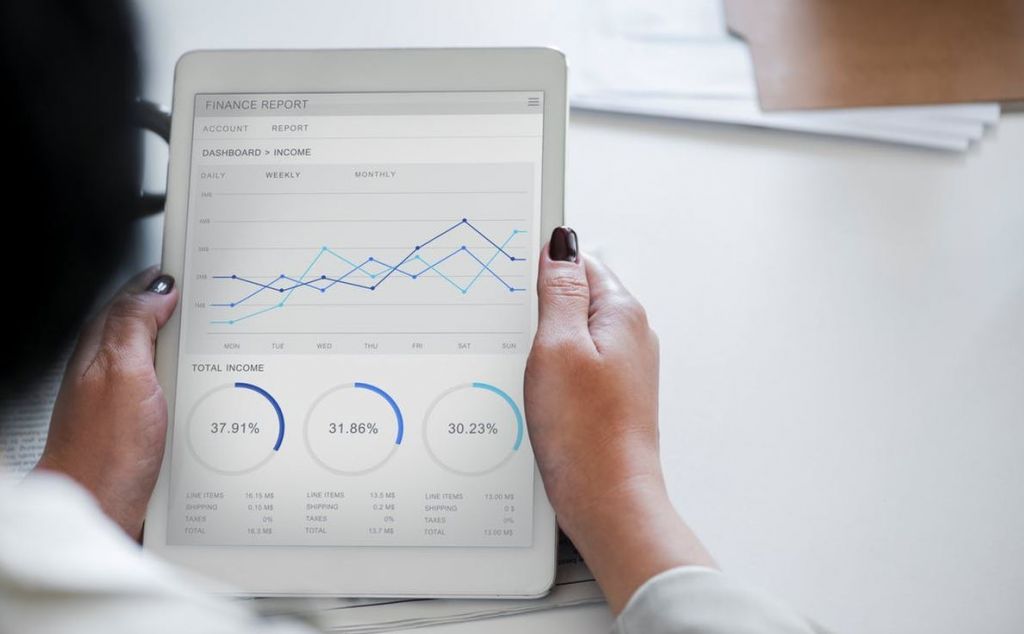 An internet search for Asset Based Consulting will mainly find references to big consultancies building cloud-based platforms and buying or partnering with analytics companies so they can sell packaged, repeatable services (at lower cost) with less reliance on their human talent-pool (so more scalable). At this end of the scale, Asset Based Consulting is attempting to move from the traditional consulting business model of selling SMEs to solve problems one at a time, to packaging those SME's expertise into services which can be sold at scale to multiple clients at once. The clients then use the services to solve their own problems, while the consultants focus on improving the services for all clients in parallel.
This 'packaged solution' approach aims to win business in markets where consulting is becoming more commoditised, and traditional consultancies face increasing competition from internal client business units, emerging-market firms and more nimble or specialised competitors.
Augmenting People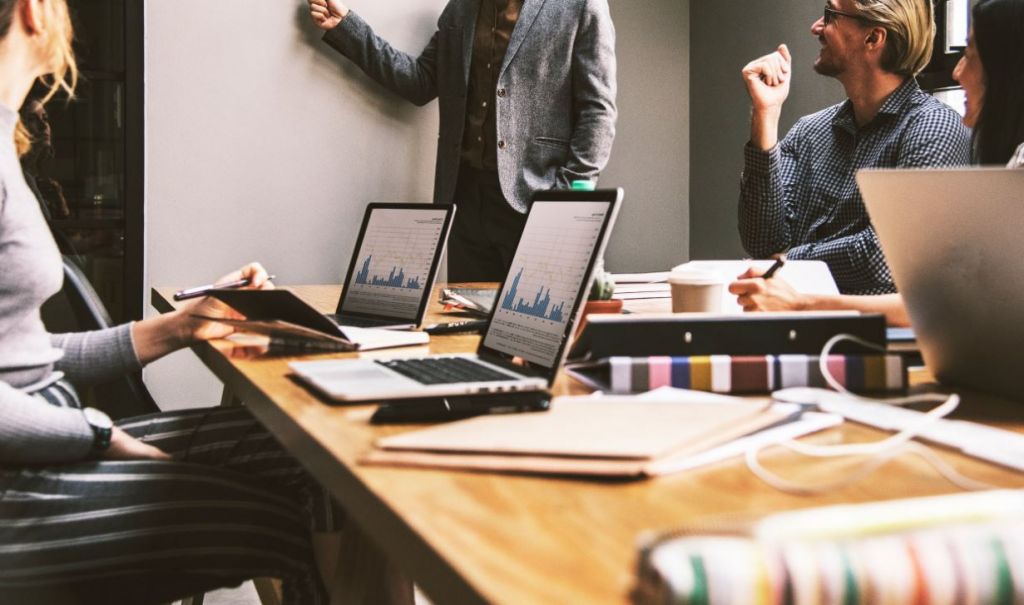 Creating fully packaged and automated services that replace the need for human capital at the point of delivery requires significant investment and well-defined solutions. In markets where solutions are harder to commoditise, the human aspect is still required during delivery. For example, in financial services the pace of change and the varied business models and internal landscapes of firms result in complex challenges and highly varied engagements. But while every project and client is different, patterns naturally repeat: companies face the same regulation, migrations need dress rehearsals and software must be tested.
At the task level, people remember how they solved similar problems in the past – what worked and what didn't. Everyone can relate to the feeling that 'I know I've done this before, but when was it and just how did I do it?' This is where a pragmatic approach to Asset Based Consulting comes into play and can have significant benefits to clients and consultancies alike.
Fortunately, Asset Based Consulting is in practice a spectrum, and there is a middle ground. This involves focused investment in assets that complement and augment people and automate specific aspects of engagements to deliver enhanced productivity, repeatability and scalability. Some firms adopt external tools while others develop their own, but at this level the aim is to optimise the human consulting model by increasing the value proposition and making people more effective, rather than replacing them.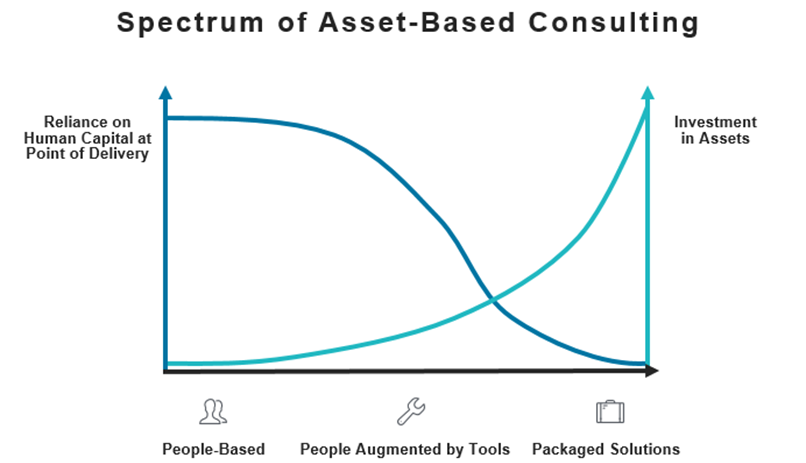 Benefits for Clients and MHC
Because MHC is focused on and works across financial services, we see trends emerging in the industry and gain insight into upcoming changes. Since identifying the developing market need for a more asset based approach, MHC has responded by strategically and continuously targeting investment to grow this consultancy model, and turn our knowledge into assets which can be used to better serve our clients.
At MHC, the concept of Asset Based Consulting informs our approach to delivery, as well as being a key part of our evolving business model of human capital supported by tools and software solutions. Repeatable patterns and processes are templated, so they can be reused, and insights and experience are percolated through the company via training sessions and knowledge-sharing events. This enhances our delivery and improves consistency and repeatability of outcomes, while our consultants become more flexible and effective.
In keeping with our aim to transfer knowledge to the companies we work with, MHC's consultants look to automate processes on each engagement where it is practical and cost-effective to do so. The aim is always to create such assets in a reusable way, so the client gains a double benefit:
they do not need to retain and pay MHC to 'keep the wheels turning'; and
they gain an asset that fits into their estate and can be reused internally in other contexts.
This also benefits MHC as our consultants can focus on other aspects of each engagement that are of most value to our clients.
MHC's unparalleled network of financial services and technology specialists gives our clients access to niche skill sets and expertise for specific challenges, and we look to package and share that knowledge, so it is of wider benefit. The use of assets to democratise knowledge and standardise our approach, allows people to be more productive more quickly and thus accelerate value delivery; while the encapsulation of expertise into reusable tools gives our clients greater assurance of consistent, repeatable and successful delivery.
A key part of our asset base is MHC Insight. Inspired by recurring challenges around programme and project governance and transparency, MHC Insight is a comprehensive package that integrates with a client's existing tools (for example CA Clarity) to deliver more value from existing investments; ensure that plans, risks, actions and issues are fully aligned and give transparency of information across projects, programmes or portfolios.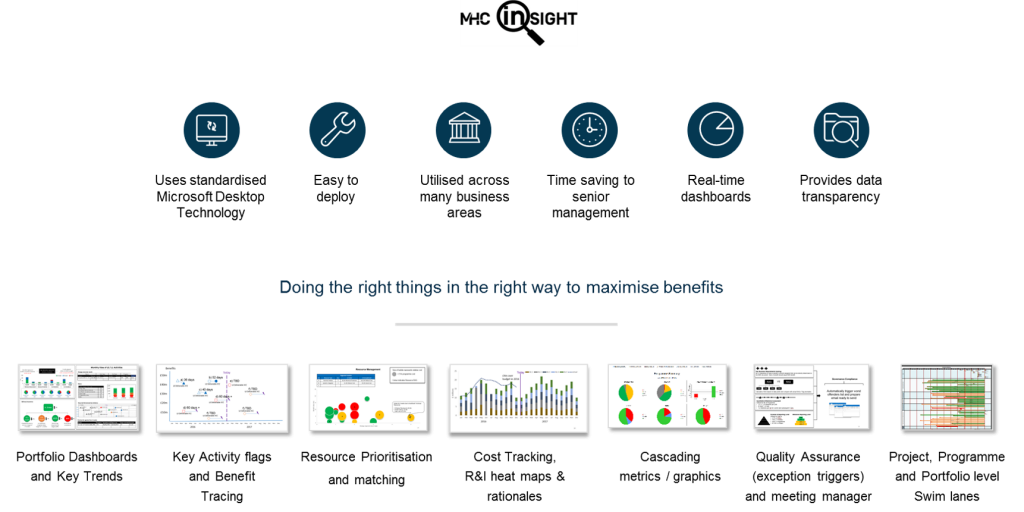 MHC Insight is built using standard Microsoft desktop technology to ensure ease of deployment in a client environment and integration with existing tools, and is offered free of charge to our clients as a value-add to drive best practice.
Asset Based Consulting in Practice
Below are three examples from real projects at tier 1 global banks that demonstrate the benefits of MHC's Asset Based Consulting model, both in the creation of assets for clients and in the re-use of MHC's own assets.
Technology Strategy Alignment

 Challenge
 A Tier 1 Banking Client's overall strategic goals were disconnected from their technology strategy resulting in several conflicting objectives and misaligned incentives. Furthermore, the aspirational state of the technology organisation was not linked to the target state of its technology change programmes.
Approach and use of assets
 MHC consultants worked with the client to distinguish which of the overarching organisational goals and target metrics could be supported through technology transformation. MHC devised a monitoring system of cascading metrics (KPIs supported by more granular KPIs); and recommended that future programme benefit cases be linked to one of the most granular metrics as part of the internal Investment Governance process.
MHC built automated tools linked to the client's reporting golden source to monitor progress against the cascading KPIs. MHC used the output from the tools to facilitate calls between the client's senior and middle management to align future plans with the new technology strategy that MHC developed with the client. The tool for the transformational roadmap that showed milestones, dependencies, risks and issues became a key input to assess a transformational programme's health and determine required remediation.
Outcome
 The initial strategy alignment led to a clearer understanding of how the technology organisation needed to change and resulted in the cancellation of several misaligned transformational programmes saving the client tens of millions of euros. Five automated tools were fully handed over to the client with documentation and training. The controls and tools implemented by MHC allowed for a controlled and measured transition to the target state with a major change in the client's transformational governance, and clear progress could be demonstrated towards their target state and benefit realisation.
IT Asset Optimisation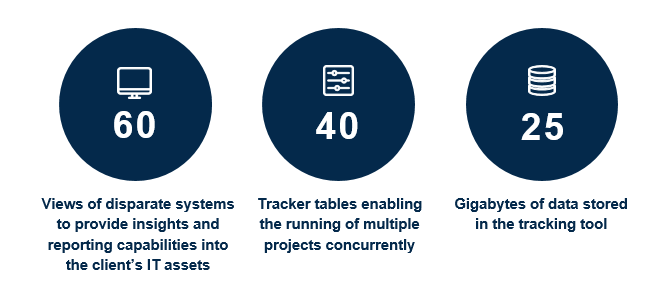 Challenge
MHC's Tier 1 Investment Banking Client had a large complicated compute estate with no tooling to analyse the estate for possible optimisation opportunities.
Approach and use of assets
 MHC created a data warehouse which took daily feeds from the core Configuration Management Database (CMDB) and many other supporting systems. This data was used to calculate and display, for each server and database in the portfolio, how optimised the asset was and what remediation steps were required to fully optimise it, together with current and optimised running costs. Optimisation opportunities could now be quickly identified together with cost savings for the business case.
An online tracking system was built to complement the client's existing ticketing systems so multiple project managers could track their projects and identify any assets in the scope of multiple projects. Online self-service reporting tracked project progress and enabled business areas and application owners to track their estate. Workflow features were implemented so that other roles such as System Administrators would be contacted when their input was needed.
Outcome
The creation of the data warehouse and the online tracking application meant that many optimisation projects could be run concurrently seamlessly by the client. Project reporting was centralised and automated, ensuring consistency in approach and style. The tooling also allowed a large programme to run with a small PMO, allowing the budget to be spent on achieving objectives rather than governance. The optimisation data and tracking tool have since been adopted by other project teams within this client as it was designed so that it can be used to track any infrastructure related work.
Governance of Global Payments Platform Rollout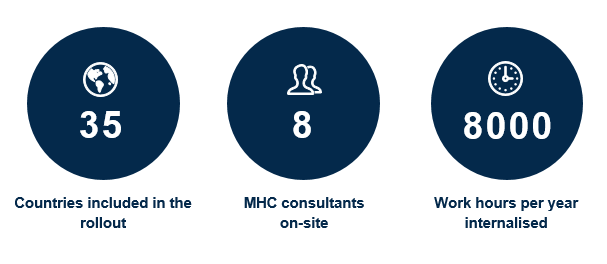 Challenge
 A Tier 1 Banking Client had engaged MHC for the implementation of a new global payments platform, including customisation of the selected commercial product and provision of key delivery resources. With 35 countries in scope for implementation a strong and transparent governance process was key.
Approach and use of assets
MHC deployed its MHC Insight toolset to accelerate the set up and implementation of programme governance including milestone tracking, risk and issue management, resource management and financial control. A programme office and reporting cycle was established using MHC Insight to provide programme transparency as a single source of data adhering to the client's standards.
Outcome
MHC Insight was a key enabler for the successful development of a global payments platform which satisfied the requirements for implementation in 35 countries worldwide. MHC implemented the first two sites fully and once the team and processes had been established, migrated the programme management office to the client's offshore team in India with full training and documentation.
Summary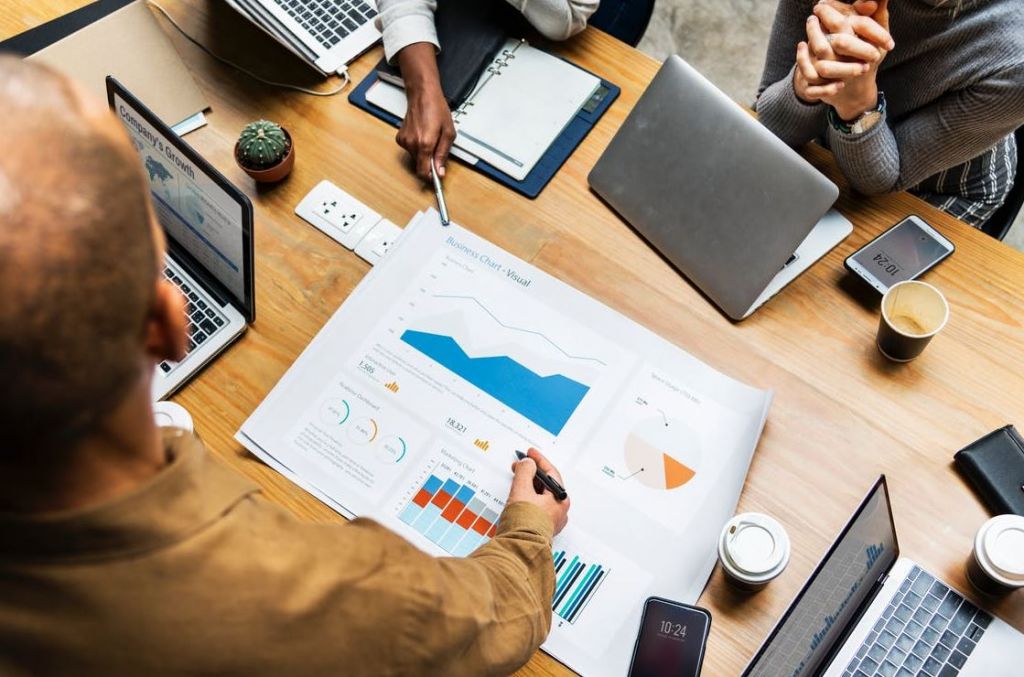 Asset Based Consulting is an important developing trend in the consulting business. It covers a spectrum of approaches, all of which have at their heart the concept of productising expert knowledge by extracting it from people's heads and turning it into reusable assets that add value for clients.
For some consultancies, scale is key and there is a focus on turning knowledge that is being rapidly commoditised into large scale packaged solutions and services that clients can use to solve their own problems.
MHC conversely has a compelling value proposition with real differentiators in our total focus on financial services and depth of skills in areas that are critically important to our clients. We view Asset Based Consulting as a way to complement and augment rather than replace people. We balance human expertise with reusable assets, so we can cover the basics consistently and quickly and share the knowledge required to deliver the specialised solutions our clients require.
About Mansion House Consulting
MHC is an international business and technology consultancy, focused exclusively on the financial services sector. We provide high quality, practical and robust solutions for the industry through our team of highly experienced consultants and subject matter experts. We deliver solutions globally to the transaction and investment banking communities, including leading Tier One clients from the financial services industry.
Established in 2009 we have been expanding and evolving ever since, with a team in excess of 300 and listed in the Sunday Times Tech Track 100 on four consecutive years 2013-2016, the Investec Mid-Market 100 list in 2016, the London Stock Exchange's 1000 Companies to Inspire Britain 2015 and 2017, The Financial Times FT 1000: Europe's Fastest Growing Companies 2017, as well as The Financial Times FT Future 100 UK. Headquartered in London, we have a global presence through offices and operations across Europe, North America, India and APAC. To find out more about our services, explore our website www.mansion-house.co.uk or contact:
Mansion House Consulting Limited
+44 (0)20 3697 7140
Disclaimer
This publication has been prepared for general guidance on matters of interest only, and does not constitute professional advice. You should not act upon the information contained in this publication without obtaining specific professional advice. No representation or warranty (express or implied) is given as to the accuracy or completeness of the information contained in this publication, and, to the
extent permitted by law, the Mansion House Consulting Limited Group, its members, employees and agents do not accept or assume any liability, responsibility or duty of care for any consequences of you or anyone else acting, or refraining to act, in reliance on the information contained in this publication or for any decision based on it.
© 2018 Mansion House Consulting Limited. All rights reserved.
In this document, "MHC" refers to the UK entity, and may sometimes refer to the MHC group network. Each MHC entity is a separate legal entity. Please see www.mansion-house.co.uk for further information.