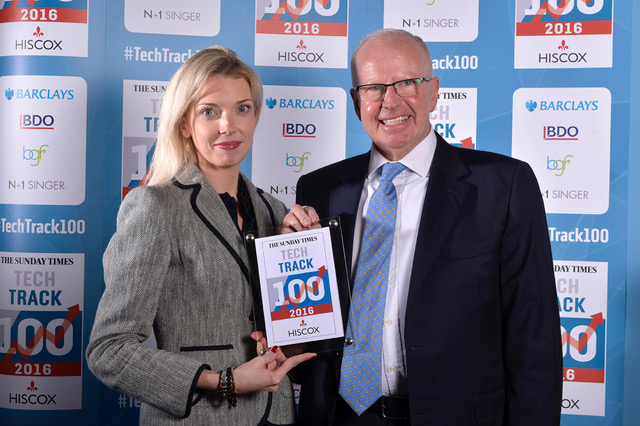 Back in September 2016, MHC was delighted to be featured in The Sunday Times Hiscox Tech Track 100 list of Britain's fastest growing private tech (TMT) companies. This was the fourth consecutive year MHC has been featured on the prestigious league table, which ranks companies with the fastest growing sales over the latest three years.
This week, MHC CEO Gerard Kenny and MHC COO Camilla Sood represented the company by attending the Tech Track 100 awards ceremony, in which the company was officially recognised for their position on the league table.
MHC was also awarded the Investec Mid-Market 100 award in June 2016 (Q2) and again in the latest edition in November 2016 (Q4). In partnership with The Times, Investec produces this bi-annual list of the 100 fastest growing mid-sized private companies in the UK and Northern Ireland by turnover growth (measured using CAGR – the company's four-year average percentage turnover growth rate). MHC's updated position on the Investec Mid-Market 100 highlights the ongoing success and growth track record of MHC.
Ed Cottrell, Head of Corporate Lending at Investec stated: "The Mid-Market 100 has become an important measure of how this vital sector of the economy is performing. But as well as the headline numbers, it also offers a fascinating snapshot into the individual achievements behind the statistics. These fast-growing and innovative businesses are exactly the sort of companies we need to keep the economy expanding as the Brexit negotiations continue."