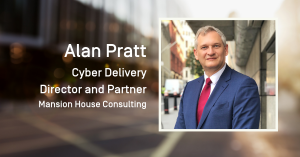 Mansion House Consulting (MHC), an award-winning IT and technology consultancy specialising in the Financial Services sector, announces hiring of Alan Pratt as Cyber Delivery Director and Partner.
Alan will be based in MHC's London headquarters, focused on developing the firm's top-level global banking clients across MHC to develop their cyber innovation, strategy, partnership and delivery.
Until recently, Alan served as Chief Security Officer for eleven Government departments, and Chief Science and Innovation Officer at the Home Office, UK Government. He had board level responsibility across Government for transforming and delivering personnel, physical and cyber security, and for science, technology, innovation and regulation. Previously he was the Director of technology labs, led major programmes and developed world leading technology to combat organised crime.
As the quantity and severity of cyber-attacks are on the rise, MHC is confident that Alan will make a profound contribution to its renowned UK focused Cyber security practice by driving its strategic direction and providing immediate top table delivery wins to both the MHC Group and its Client base. Alan has vast experience in safeguarding sensitive business information relating to national security and financial services. He will also have a leading advisory role focusing on the learning and development of MHC staff within its Cyber Security practice.
CEO Gerard Kenny said of Alan's joining, "We are absolutely thrilled to have Alan on board to lead our Cyber Security delivery across our Tier 1 banking clients, and we are particularly thrilled to have someone of Alan's background and calibre join the MHC team. We are committed to develop MHC's cyber capabilities and related offerings."
Alan commented "After a fantastic 30 years leading and transforming technology and security in Government, I am delighted to be joining Mansion House Consulting to drive cyber innovation, strategy, partnership and delivery in global financial services organisations and MHC."